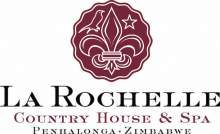 Here is a short summary of what we achieved in 2016!

Dear Friends of La Rochelle,
 
As 2016 comes to an end, it's time to reflect on what we have achieved this year and to say another big thank you to you all for the ongoing support.
 
2016 has been a busy and eventful year for La Rochelle and we are very happy with how far we have come in working towards our end goals and vision for the "La Rochelle Project". Here are a few highlights of what we managed to achieve:
Completed improvements to the La Rochelle orchid house and had the very special Lady Virginia Orchid flower for the first time since 1973.
Successfully hosted 10 conferences with top corporates such as Old Mutual, TelOne, ZIMPLATS, Pearl Properties, IDBZ and more.
Our occupancy has greatly improved this year with an average occupancy rate of 40%. 
Hosted a number of events such as bird courses, vintage car rally, art retreat, jazz evening, food and wine pairings and educational workshops.
Successfully hosted 3 weddings and will be hosting the last one this weekend.
We have more exciting plans for 2017 and we hope that you will join us for some of them.

We also hope that some of you are planning to hold special events such as 50th birthday parties, wedding anniversaries, corporate strategy meetings and engagement parties at La Rochelle in 2017. We really need your continued support to achieve our overall vision.
 
Below is a calendar of what will be happening in Q1 at La Rochelle Country House and Spa. We will send more detail on each closer to the time.
 
Thank you once again for your support in 2016. We wish you a very happy festive season and we look forward to "working" together again next year.
 
Kind regards,


The La Rochelle Team.