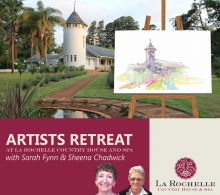 Come up to the Eastern Highlands and experience the exquisite colours of Spring with well known Zimbabwean Artists Sarah Fynn and Sheena Chadwick.

Rediscover your creativity in the beautiful gardens and forests of La Rochelle. 

Date: 11th - 13th October 2016
Cost: $300 per person - includes bedm breakfast, tea and art tuition for 3 days. 
Cost for day visitors: $55 per person per day - includes art tuition and tea. 

Bring your own media, easel, painting chair and a friend or two...

This is also the week before half term so have your family join you on the Friday for a great long weekend treat. 

To find out more email reservations@larochellecentre.com or call us on (04) 497213.