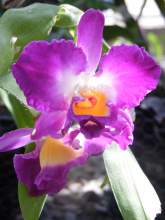 Spring has arrived and the La Rochelle gardens are starting to come alive. This is the best time of the year for flowering in the garden and to see the Spring colours of the Msasa Tree's on route.
Our Camelias, Azaleas and Foxglove trees are coming into flower and will be for the next 4-6 weeks. The roses will start flowering soon and should be a good display – if we can stop the monkeys from eating them! The orchids have started flowering and will carry on through till November. The leaves have started to change colour and the Lesser Striped Swallows have returned signaling the start of Summer too.
We hope you'll also be interested in touring our organic herb trials which are currently being expanded on a commercial basis for export to Germany. We have also recently cut three new hiking trails through the Miomba Woodland which can be used for bird watching, mountain biking and hiking. 
It's been a chilly winter, making the sunshine that much more enjoyable and we'd really like to encourage you to head up to the Eastern Highlands, soak up some much needed vitamin D and celebrate the start of Spring.
We really appreciate your continued support of the La Rochelle Project. We are making some great progress so keep subscribed to our mailing list for updates.
Thank you.