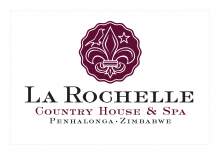 La Rochelle Country House and Spa sent out their first ever Newsletter in January 2016. Here is what was shared. 
Dear Friends of La Rochelle, 

The La Rochelle team would like to wish you all a very happy 2016 and thank you for your ongoing support for the 'La Rochelle Project'.

2015 has been a very busy and exciting year for us at La Rochelle and we'd like to take this opportunity to share with you what we have achieved over the last few months and where we want to go in 2016.
 

Our vision:                    
Together with the National Trust of Zimbabwe, we aim to develop the La Rochelle property and estate into a creative 'nexus' of educational, cultural and environmental excellence in Southern Africa – upholding the vision that Sir Stephen and Lady Virginia Courtauld had for the estate.
 
Our mission is to inspire creativity through multidisciplinary programming. The La Rochelle Centre will provide leaders, farmers, horticulturalists, teachers, artists and professionals with the 'space' and support they need to think and to create, to develop and to make positive things 'happen' in a complex environment.

Our progress:

We have managed to achieve a number of important steps towards this vision during 2015 and have many more projects that we will be focussing on during the course of 2016 .
Completed all urgent structural repairs to the hotel and grounds.
Restored and upgraded the estate including the Hotel and grounds.
Refurbished many parts of the garden and more recently with the very generous assistance from the Nick Roditi headed Curtain Organisation (to the National Trust of Zimbabwe) renovated the water furrow that feeds the arboretum, many of the ponds and artificial streams as well as a complete overhaul of the famous orchid house. The latter is now orientated around you - our guest – so that you can stroll around well laid out paths surrounded by streams and waterfalls and select various plants to purchase for your own garden.
Completed renovations to the more formal gardens and ponds to be able to open La Rochelle as a select wedding venue for the occasional garden wedding – and what a garden!
Completed the building of our new Conference Centre – returning some chalets to their former glory as the 'Old Craft Hall' and hence achieving Lady Virginia's request in her Will to use La Rochelle as "a venue for conferences either of a public, national, international or educational character"
Opened our new Snooker Room – with the reconditioning of our British championship 100 year old table.
Partially completed the new children's "petting farm' which – along with fishing, boating, hiking, birdwatching, cycling, horse-riding, snooker, swimming and spa treatments should keep your whole family very occupied, allowing you some time off to stroll through the gardens in peace! 
We would like to ask for your continued support in 2016 so that we can grow and expand La Rochelle and work together to achieve our vision. To this end we would very much welcome any suggestions, contacts, internships, contributions which might help us all achieve our vision and perhaps therein providing a very positive story for Zimbabwe.
Please do make use of La Rochelle for your family and corporate functions, and encourage your employees to stay over when visiting Mutare or en route to Mozambique. Naturally we will recognise our loyal friends by providing special rates for our regular guests and companies and will be issuing a La Rochelle Loyalty card this year.
 
Thank you once again and we hope to work more closely with you in 2016 as without your support we will not achieve our La Rochelle vision which we hope, in turn, plays a small part in this country's renaissance.
 
Kind regards,   
The La Rochelle Team
January Special Offer: 

We are running a back-to-school weekend special for January 2016. Book for 1 night over the upcoming weekends and get 20% off and book for 2 nights over the upcoming weekends and you'll receive 30% off (valid for weekends in January 2016 only).