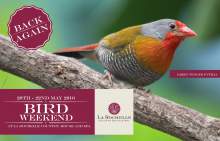 Due to last years success, we will be hosting another Bird Weekend at La Rochelle Country House and Spa. 

La Rochelle is home to some of the most beautiful birdlife and this weekend will allow guests to experience them in detail. 

The weekend will include: guided tours with our very experienced Bird Guide, identifying the more rarely spotted birds found in the area by appearance and by call and free access to the Bird Guide for any questions. 

Weekend Package rate:
$210 per person and includes: 2 night's accommodation on a bed & breakfast basis, 2 dinners (both 3 course meails and guided tours. 

Day Vists: $20 per person (excludes accommodation, meals and drinks. 

For more information, email us on reservations@larcochellecentre.com or call us on (04) 497 213.